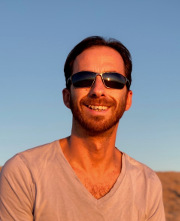 Patrice Salomé, an assistant researcher in Sabeeha Merchant's group, was recently selected as one of 16 Assistant Features Editors for The Plant Cell, owing to his breadth of knowledge in plant biology. He will contribute summaries of research articles published in The Plant Cell. He has already published 11 "in Brief" articles for the journal, covering a range of topics, including micronutrient uptake in plants, chromosome segregation and light- and hormone-regulated seedling development.
Patrice is also a writer for "Plant Cell Extracts", on the blog site Medium.com. He coined the name of the blog, which is sponsored by the American Society of Plant Biology (ASPB), and contributes to ASPB's science communication efforts by making cutting-edge research in the plant sciences accessible to the larger community.
In Brief articles:
Some Like it HOT: Protecting Plants from Heat Stress.
Plants Get Jetlag Too: A Play On Flowering Time.
Plants: the Green Starfish of the World.
https://www.doe-mbi.ucla.edu/wp-content/uploads/2018/09/patriceSalome.jpg
221
180
DOE-MBI Staff
https://www.doe-mbi.ucla.edu/wp-content/uploads/2021/07/DOE3_newlogo4.jpg
DOE-MBI Staff
2018-09-24 14:48:01
2018-09-24 14:51:08
Patrice Salomé selected as one of 16 Assistant Features Editors for The Plant Cell