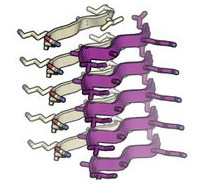 Interactions of LARKS protein domains
More than 1500 human proteins contain long, disordered stretches of "low complexity"—strings of just a few of the 20 common amino acids. The functions of these low-complexity domains have been unclear. Hughes et al. present atomic-resolution structures that suggest that short segments of two such domains can bind weakly to each other by forming a pair of kinked β-sheets. Because aromatic amino acid side chains stabilize these interactions, the interacting motifs are termed LARKS, for low-complexity, aromatic-rich, kinked segments. Numerous proteins associated with membraneless organelles of biological cells contain low-complexity domains housing multiple LARKS.
Abstract
Subcellular membraneless assemblies are a reinvigorated area of study in biology, with spirited scientific discussions on the forces between the low-complexity protein domains within these assemblies. To illuminate these forces, we determined the atomic structures of five segments from protein low-complexity domains associated with membraneless assemblies. Their common structural feature is the stacking of segments into kinked β sheets that pair into protofilaments. Unlike steric zippers of amyloid fibrils, the kinked sheets interact weakly through polar atoms and aromatic side chains. By computationally threading the human proteome on our kinked structures, we identified hundreds of low-complexity segments potentially capable of forming such interactions. These segments are found in proteins as diverse as RNA binders, nuclear pore proteins, and keratins, which are known to form networks and localize to membraneless assemblies.
More information:
https://www.doe-mbi.ucla.edu/wp-content/uploads/2018/02/zipper_mphughes2018.jpg
186
202
DOE-MBI Staff
https://www.doe-mbi.ucla.edu/wp-content/uploads/2021/07/DOE3_newlogo4.jpg
DOE-MBI Staff
2018-02-09 14:58:13
2018-02-09 14:58:13
Atomic structures of low-complexity protein segments reveal kinked β sheets that assemble networks